How to do manicure at home in 06 simple steps
Whilst makeover is an art of enhancing the beauty of face, Manicuring is the art to beautify the nails. We all fancy, love, and care to flaunt our nails. Neither of us wants to have chipped or brittle nails. Would you?
So, Manicuring is hands down a trick to get exquisite nails. But spending huge money all the time for a manicure is like splurging the money. Then how is it possible to get a salon quality nails? 
Well, it's amazingly so simple to notch up such salon quality nails. Just follow these 6 easy steps.
[Read: How to make rough hands soft and fair permanently]
06 Steps How to do a professional manicure at home and get salon quality nails
Step 1: Prepping the nails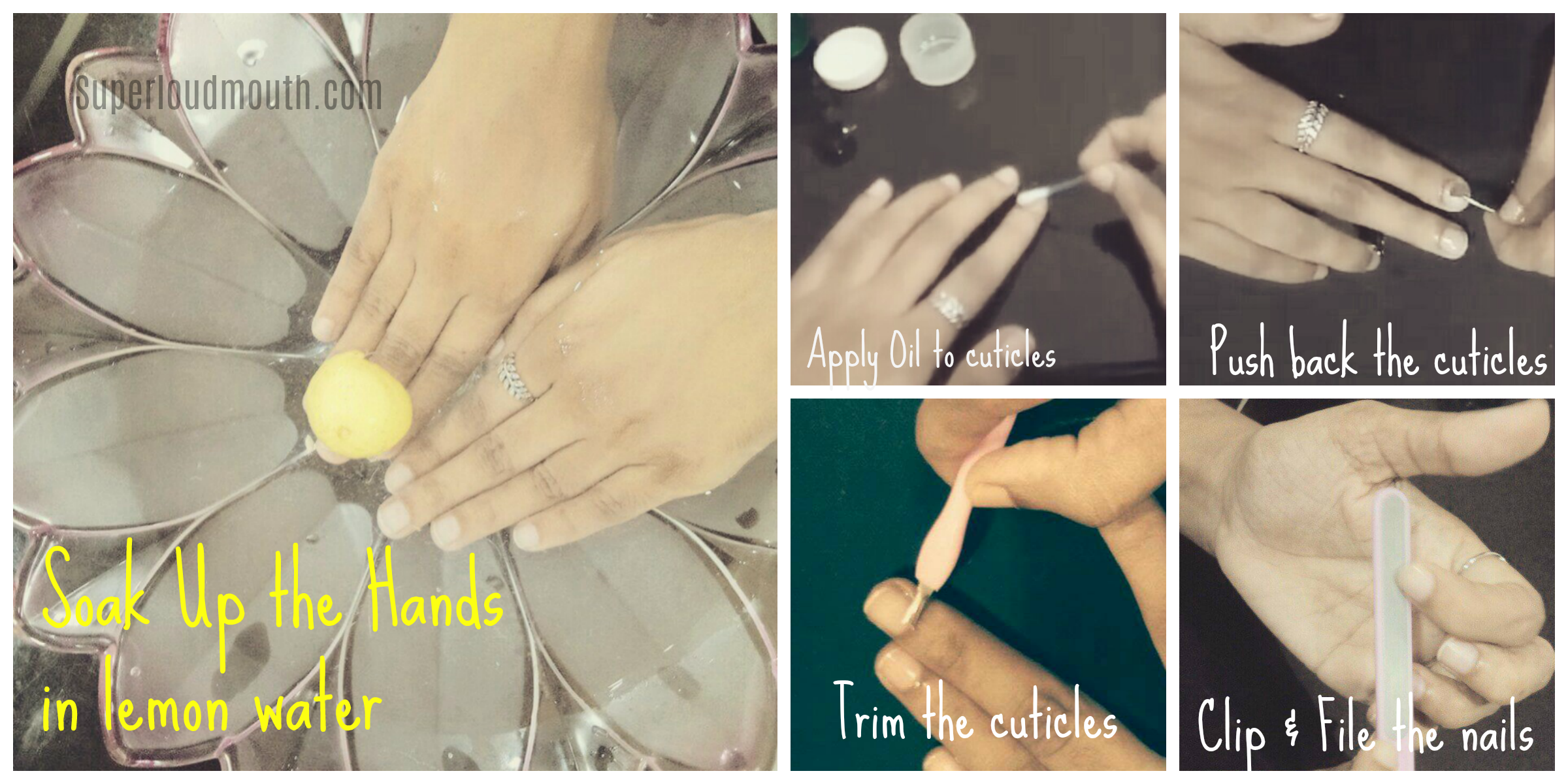 Things You'll need
Nail remover
Cotton balls
Bowl
Listerine / Lemon
Moisturizer or Olive oil
Ear Bud
Cuticle pusher
Cuticle Remover
Nail Filer and Clipper
Process
Cleansing – Make the first move by taking off the remainings of old nail polish. This must be done first coz the nail polish will not allow any grime or dirt to let go. So, ensure to remove the polish before starting off the process. For this, use nail remover and cotton pads and gently sweep it across the nails till they're no traces of nail polish.
Soak up – Next up drench your hands in lukewarm water containing either Listerine or Lemon.  Soak up for 10 – 15 mins and then rinse off your hands with cold water. Doing so will exfoliate and soften your hands.
Soften & Trim the cuticles –  Firstly, with the help of an ear bud apply "olive oil, cuticle oil or some moisturizer" on the cuticle area to soften the cuticles. Secondly, push back the cuticles very gently with a cuticle pusher. Finally, trim the cuticles with a cuticle remover.
Precautions – 

Cuticle is basically a dead tissue. So, Scrape away the cuticle gently, if not the cuticle area chips or cracks. If so, it may turn out to be an infection.
Don't use nippers to cut the cuticle instead use the cuticle remover.
Push or trim the cuticle only when it gets soften by the oil/moisturizer.
Clip & File – The final step in prepping the nails are Clipping and Filing of nails. If you want to shorten the nails or want to clip them go for it else skip it by just filing the nails.
Precautions –

While cutting the nails, make sure you won't cut the edge of nails which is the skin. If you cut the skin, within a few days the skin layers comes off and also cause pain.
While filing the nails, swipe over the nails, rather than going back and forth. Because your nails may chip or crack.
Step 2: Scrubbing the hands
Scrubbing the hands or any parts of the body will Lighten the discolouration by exfoliating the area, makes the area refreshed, nourished and soft.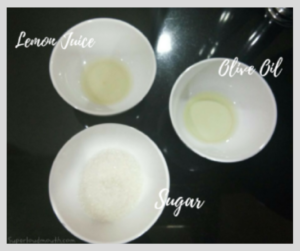 Things You'll need
Bowl
1 Tsp Sugar
Half a Lemon
1/2 Tsp Olive oil (or your favourite oil)
Process
Prepare a mix of 2 tablespoons Sugar, 1 tablespoon Olive oil and squeeze half a Lemon in a bowl. Take some mix and apply to the hands. Start scrubbing your hands with the mix. Scrub for about 5 – 10 mins and not more than 10 mins coz it may be harsh on your skin. Sugar is the best exfoliator and makes the hands much softer. Lemon will eliminate the dead skin by making the hands refreshed or rejuvenated. Olive oil is so good for nails to keep them moist and supple. So, all in all, this is a perfect scrub for the hands.
Step3: Mask for hands
Your skin will be benefited in many ways when you apply home made masks like – Increasing the hydration levels, giving a flawless glowing skin tone, and deep cleansing the skin.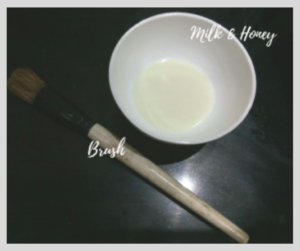 Things You'll need
Bowl
1 Tsp Honey
2 Tsp Milk
Brush
Process
Blend a tablespoon of Honey with a 2 tablespoons of raw milk. Apply the mix to your hands using a brush and leave it on for 10 – 15 mins. The after effects of using this mask is so amazing because Honey is really so good for the fingernails. It leaves the nails soft and supple. Milk is responsible to give a fair and even skin tone.
Step4: Brush the nails
Further brushing the nails after soaking, scrubbing and masking will remove the left over grime or dirt underneath the nails.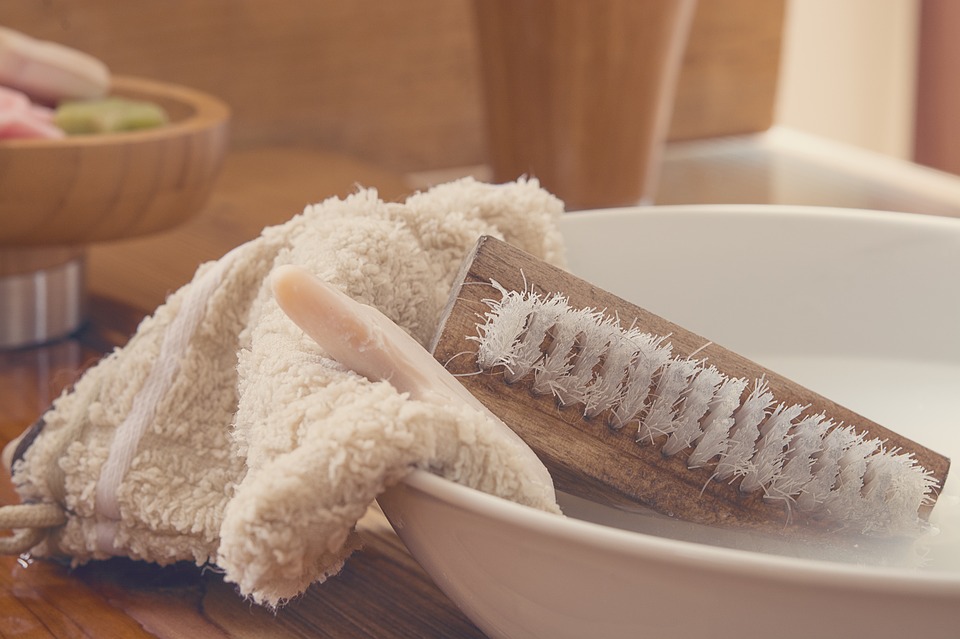 Things You'll need
Hand scrub brush
Liquid hand sanitizer
Process
Take some liquid hand soap onto the brush and thoroughly brush the nails. But avoid brushing the nails for a long time as the nails may lose its natural shine.
Step5: Apply Moisturizer
After cleansing the hands, moisturizing them is really important as it helps to retain the moist levels. Apply a thick layer of hand cream or moisturizer to the hands. Use a moisturizer which contains shea butter. This shea butter will greatly moisturize the skin and keeps it soft so long time.
If you want to apply nail polish then ensure to wipe off the moisturizer from your nails with a cloth or cotton pad.
Step6: Paint your nails
Painting the nails is so much fun. We can play with colours, nail arts and whatsoever. But you need to follow few steps to have long lasting nail paint.
Apply a base coat – I witnessed a great change in having a colour on my nails for a long time. And that's when I've actually started applying a base coat before the nail paint.
Apply Nail paint – Time to apply your favourite nail colour or some quirky nail arts.
Apply Top Coat – Apply a top coat on the nails and also to the corners of nails. When you apply a top coat to the corners and edges of nails it will seal the nail paint and makes it long last.