How to get soft and beautiful hands by homemade hand scrubs and masks
Do u want to look beautiful?
Well, how do you judge a person to be beautiful or handsome? By looking at their face? hair? eyes? lips? or something else? Can you make a decision by just scrutinizing a particular feature?
It's impossible, right? Because beauty lies in every part of the body including the heart. Hehe!
If you fail to care for one part, it may start showing some problems like ageing, wrinkles and the list goes on. Especially the hands show serious signs of ageing and that's because we use them out and about for everything from cleaning dishes to doing all household chores. In that process, they're constantly exposed to chemicals, grime and also to the sun exposure. And when you live in hot or very cool or less humid places can dry out the exposed skin.
Ensure always to cover your hands to retain back the moisture and keep them soft, supple always.
All of these can lead to dry and rough hands. So, taking utmost care of each and every body part is must must and must mandatory.
Here I'm with a list of 6 remedies to lighten, brighten and soften the hands.
[Read: How to manicure in simple 06 steps]
How to make rough hands soft and fair permanently with 6 home remedies
01. How to remove dead skin from hands | DIY Tan removal mask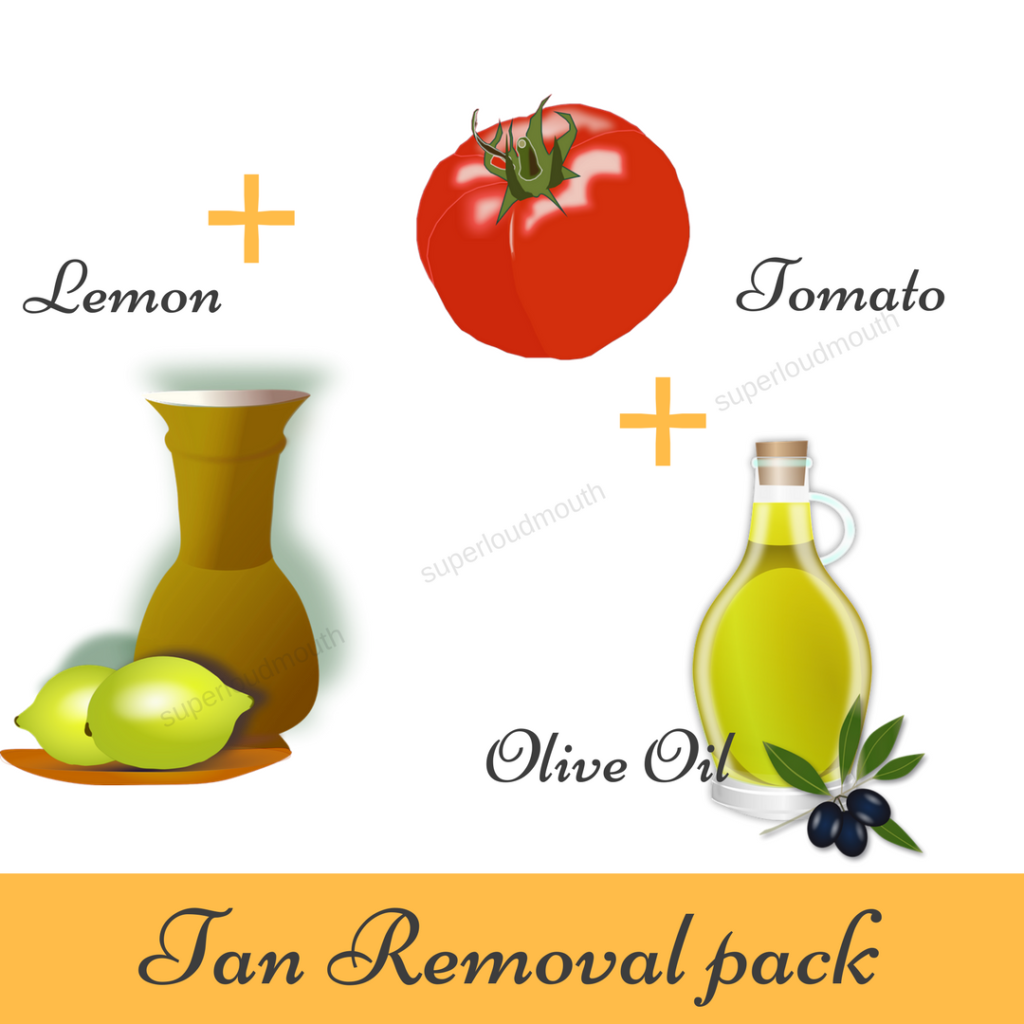 Benefits of Ingredients
Rubbing a slice of tomato on the skin is an easy and the safest method to remove skin tan. As tomatoes are abundantly infused with antioxidants. These antioxidants make the tomatoes stand out as powerful tan removal packs. They also brighten up the skin discolouration.
Lemons on the other side are provenly the best tan remover. Also, they refresh and rejuvenate the skin.
Olive oil keeps the skin soft, supple and well nourished. Besides, this oil prevents ageing of the skin.
Process
Prepare a mix of 2 slices of tomatoes, 1 Tablespoon Olive oil, and squeeze half a lemon. Rub this mix on hands and leave it on for 5-10 mins then wash it off. Do this often whenever you head out in hot sun.
02. How to fix dry cracked hands | Moisturize with Vaseline
Benefits of moisturizing with Vaseline
To get a baby like soft hands moisturize your hands with vaseline or any other of your choice. Doing so, the moisturizer penetrates into your skin leaving a soft and squishy skin.
How to apply
Apply a dab of cream onto each of your hands and massage it all through the fingers, palms, between the fingers and the cuticle area. Leave it overnight by wearing either gloves or hand masks. Follow this remedy every night to get a baby like soft hands.
03. Dry hands remedy homemade | Pamper with Olive oil & Sugar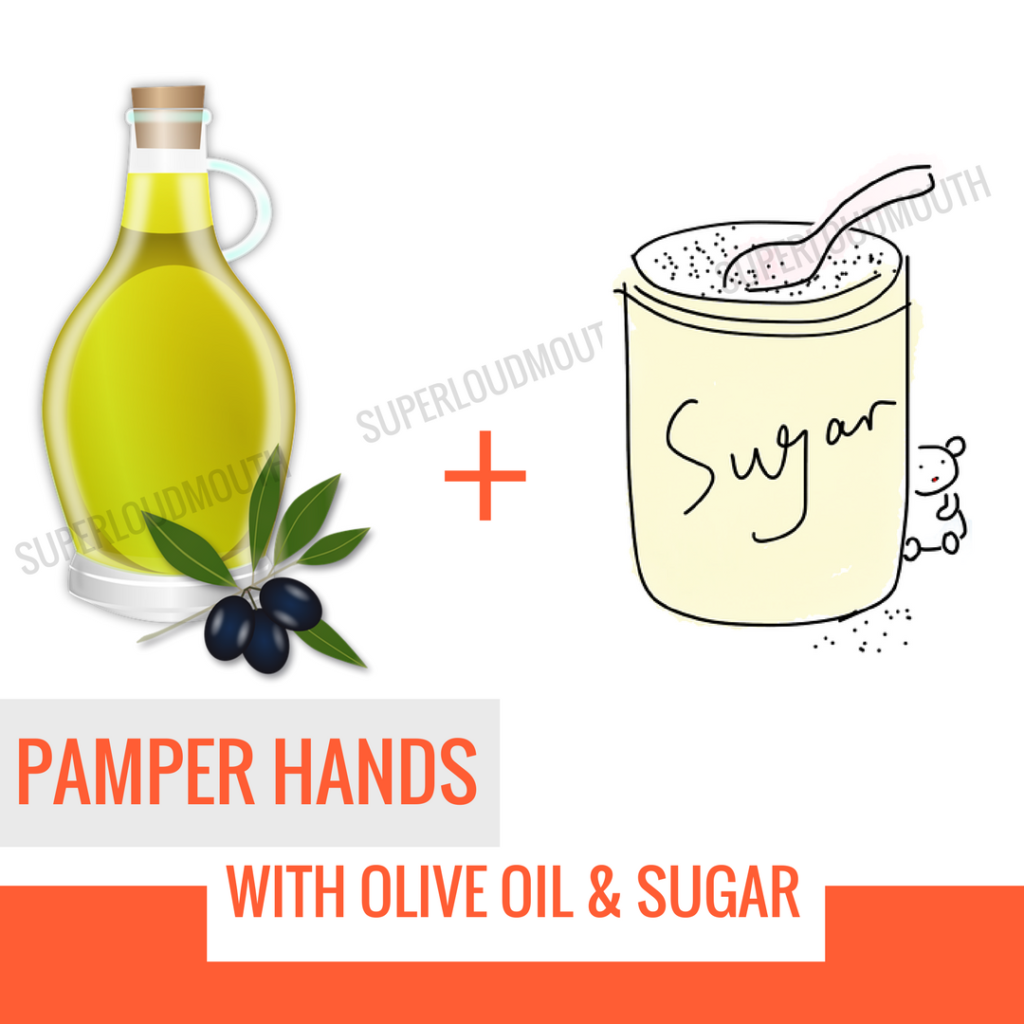 Sugar scrub benefits
Sugar has natural moisturizing properties that prevent the skin from drying. The granules of sugar are responsible to exfoliate and rejuvenate the skin. The fine lines, wrinkles and dullness caused by sun exposure, pollution, and chemicals are unfastened by the sugar scrub. While scrubbing the skin with sugar it promotes good blood circulation thereby making the hands soft.
Besides to sugar, Olive oil pampers your skin making it squishy as usual.
Process
In a bowl of 1 Tablespoon Sugar, add 1 tablespoon of Olive Oil. Make sure not to add more Olive oil as the sugar gets dissolved in the oil. Then scrub your hands gently for 5 – 10 mins and wash off.
04. How to whiten hands in 1 week | DIY lightening honey and milk mask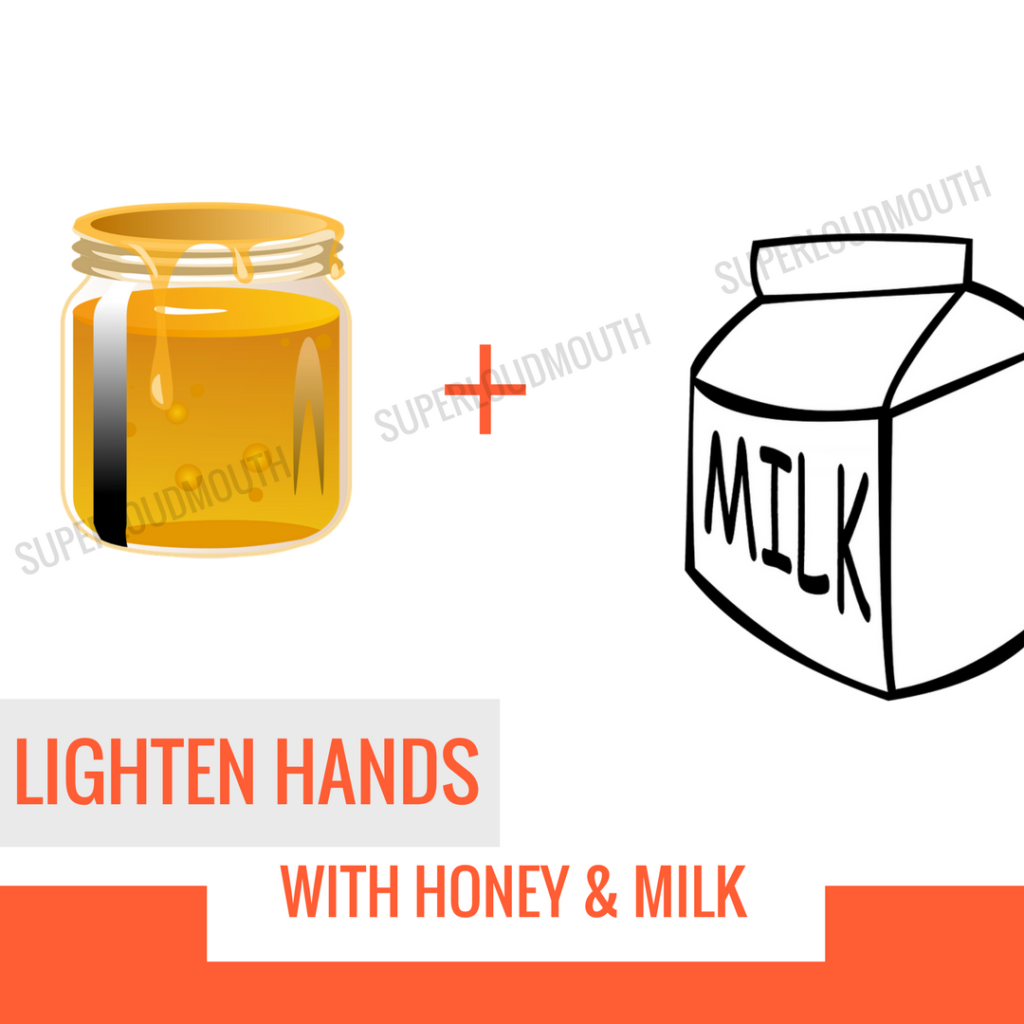 Benefits of Ingredients
 The after effects of using this mask is so amazing because Honey is really so good for the hands and fingernails. It leaves them soft and moisturized.
Milk is responsible to give a fair and even skin tone.
Process
Blend a tablespoon of Honey with a 2 tablespoons of raw milk. Apply the mix to your hands using a brush and leave it on for 10 – 15 mins. Finally, rinse your hands.
05. How to get fair hands overnight | DIY brightening Multani hand mask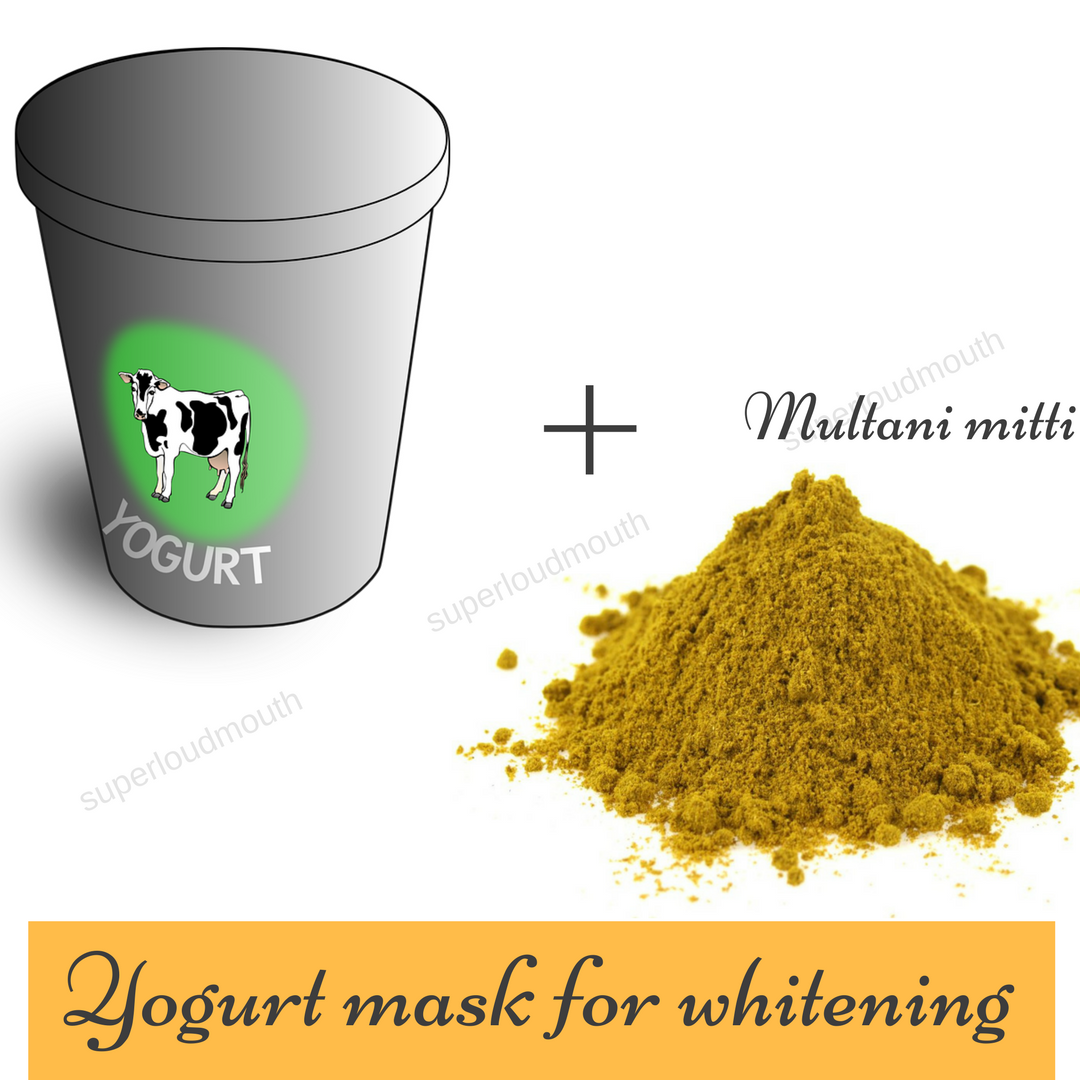 Benefits of ingredients
Multani mitti or fuller's earth which is extracted from the earth is an amazing ingredient to cleanse, exfoliate, de-tan skin and remove the scars. It refreshes your skin and adds a sparkling charm.
Yogurt is simply the best ingredient to soften and lighten the hands.
Process
Mix a tablespoon of yoghurt with 1/2 tablespoons of Multani mitti till it gets a soft consistency. Rub this mix on your hands. Leave it on for 10 mins and rinse it off.
06. Homemade hand scrub with coconut oil
Coconut oil is good for rough and dry hands. It not just softens the hands but also make them well nourished and moisturized. Treat your hands with coconut oil or any oil of your choice and massage for about 5 minutes in circular motions. Cover the hands with gloves overnight. Do this treatment every day before you hit the bed for best results.
Thumbnail Image courtesy of Pixabay