Homemade deep conditioning natural hair with Oils
Frustrated with your dull and damaged hair?
There are so many reasons for dry, damaged or tangled hair. The major reason is the harmful toxins present in the air caused by pollution. In our day to day lives, while we head out, our hair constantly absorbs such harmful toxins. These toxins attack and damage the hair.
Also, other reasons can be the dangerous products on the market, decreased oxygen supply to hair, and low collagen.
So, whether you're looking to bring back life to hair by treating damaged hair, dandruff, detangles, natural oils are the best option. Natural oils bring hair back to life by soothing, pampering, moisturizing, and detangling the dry and damaged hair.
Benefits of deep conditioning with oils
Oils stimulate hair growth when you massage your hair while doing hot oil treatments
Deals with common hair issues like Dandruff, Dry scalp, Itchiness or irritation, frizziness and split ends.
Sometimes oils can be great in managing the flyaways
Completely banish away the dry scalp and hair breakage by moisturizing the scalp
Nourishes your hair by adding a healthy glow
Boosts healthy hair by protecting from the damage of chlorine
Protects hair from the heat while styling
Guide to choose the best hair oil for your hair type – What oils can you use?
There are a plethora of oils up for grabs in the markets. It would be so much difficult to pick one, amongst them. The oils also must satisfy your limitations or guidelines. Whatsoever, consider two factors while choosing a perfect oil for your hair.
i) Based on the texture –
If you're having thin, soft or slightly damaged hair and also if your hair has oily, greasy kind of texture then you can go with lighter oils like Jojoba oil, avocado and almond oil.
Similarly, if you've thick or long hair go for heavier oils like coconut oil.
ii) Based on your requirement –
When it comes to fully damaged and flaky dry hair, again go for heavier oils so that the oils easily penetrate deep into the hair. It helps to retain back the moisture levels. Such oils are coconut, olive, and almond oils.
If you're having a combination of damaged and oily hair, the lighter oils are great to treat your hair. But if you want a touch of heavier oils, then mix small portions of heavy oils with home ingredients like Aloe vera, lemon, vitamin E oil. Also, you can mish-mash little amounts of heavy oils like COCONUT OIL with light oils like OLIVE OIL.
Let's go deeper into the oils you can use.
1.Coconut oil: Homemade deep conditioner for natural hair growth 
The best of all oils which is coconut oil has proven to be the one solution for all kinds of hair problems.
Components
Carbohydrates
Vitamins
Fatty acids
Minerals
Benefits
> Moisturizes hair
> Strengthens hair
> promotes hair growth
> best heat protectant
> repairs hair damage or breakage
> prevents hair loss
> Treats dry scalp so no more dandruff or itchy scalp (1)
2. Deep conditioning with Olive oil: Best for extremely dry or damaged hair
This amazing oil serves you with culinary as well beauty benefits.
Components
Vitamin E
Vitamin K
Monounsaturated fatty acids
Vitamin D3
Benefits
> Moisturizes and soften hair
> The best remedy for dry and damaged hair
> Treats split ends
> Stimulates healthier, strong and glowing hair
3. Deep conditioning with Almond oil: Best for treating dandruff
The perfect cure for dry hair and the problems caused by the dry hair like frizziness, dandruff, and itchiness.
Components
Proteins
Minerals
Vitamin E
Benefits
>  Boosts hair growth
> Reduces itchiness, inflammation and redness caused by dandruff
> Controls hair fall
> Adds a shine to hair
4. Deep conditioning with Argan oil: Best for dry or frizzy hair
Is your hair affected by excess heat while styling? If so, quickly get hands-on Argan Oil.
Components
Fatty acids
Vitamins
Protein
Benefits
> Protects hair from heat
> Nourishes, softens and moisturizes hair
> Reduce dry, flaky hair
> No worries for flyaways
5. Deep conditioning with Castor oil: Best oil for hair loss
Castor oil which is yielded from castor beans boosts up the growth of hair.
Components
Vitamin E
Minerals
Proteins
Benefits
> Controls hair loss
> Prevents split ends
> Moisturize and nourishes the hair
> Heals scalp infections
6. Deep conditioning with Amla: Best for stimulating growth
Amla oil has a lot of medicinal benefits for hair. This is the sole reason why people are using this oil since ages.
Components
Benefits
> Reduce hair fall
> Nourishes hair
> Promotes good scalp health
7. Deep conditioning with Avocado oil: Best oil for hair growth and thickness
Avocado oil is very light oil and can easily get absorbed into the scalp.
Components
Vitamins
Minerals
Fatty acids
Benefits
> Apparently, no grey hair
> Heals split ends
> Yields long and thick hair
How to deep condition natural hair at home with oils?
You should follow 5 simple steps while always conditioning your hair with oils,
Applying oil
Steaming up the hair
Washing hair thoroughly
Conditioning
Applying a leave-in conditioner
Firstly, section your hair into two halves from the middle – a right section and the left section.
Now, put one, two or any number of drops onto your hands. How many drops you want, totally depends on your requirements like based on thick or thin hair.
Rub the oil on your hands and begin the process of applying to hair.
Starting with the left section, apply oil through to each strand of hair. Continue the same process to the right section.
Now, time to massage the scalp. Massage in circular motions and don't forget the pressure points. The pressure points greatly relieve you from stress and calms down your mind and soul.
Then evenly comb your hair through.
Finally, apply steam to your hair with a steam machine or drape a dampen lukewarm towel over your hair. Wash and condition your hair after an hour. Your then good to go with a leave-in conditioner.
Should you oil your hair every day?
Most of the experts claim that you shouldn't oil your hair every day because when you head out with oily hair, the oils on your hair attracts all the grime or dirt and make those to settle on your hair. This can be a perfect chance for annoying dandruff to sprout up. So, leave it overnight and wash it off in the morning.
Do's and Dont's while applying oil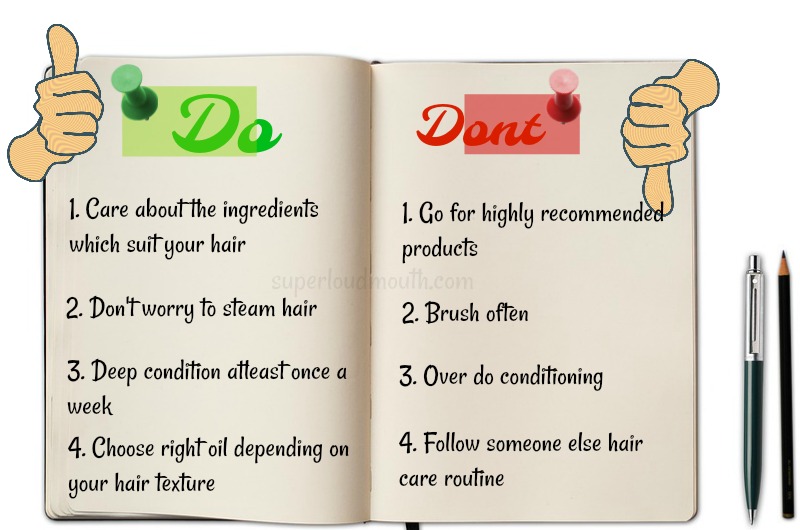 Deep conditioning with oils is the best way for clear and moisturized hair. So do try and let me know in the comment section your experience with your favourite oils.