Beat the heat: 08 summer health and skin care tips
Summer is around the corner annoying us in all ways with the scorching sun. This is the season which greatly bothers everyone about the skin.
Well, the sun rays not only have bad effects to skin but also they prone to health problems.
When we're continuously exposed to sun's heat, it causes an illness called Hyperthermia. Basically, a human body can take temperature up to 40 degrees. If the body temperature is beyond the 40 degrees limit, then it's the root to hyperthermia. Hyperthermia has several stages.
This is the initial stage and a heads up that the body temperature is increasing. The symptoms are like we start feeling the exhaustion levels because of dehydration.
The skin slowly starts irritating and inflamed. This stage is vastly diagnosed for the sensitive skin people.
In this stage, the hydration levels and the salt like sodium and potassium levels greatly decrease. This leads to the muscle cramps and less urine output.
This is the next stage of sunstroke if you still are not conscious about your body. Drink more water to not pass into the next stage.
This is the severe stage of hyperthermia. In this stage, the person suffers from a blackout, heart problems, urinary problems, skin dryness, headache, fever, and the body stops sweating.
These are the problems which you face when you get overly exposed to sun's UV rays so ensure to follow the below tips.
Tips to beat the heat wave – 
#01. All you can eat
In summer water is most essential. So, consume the vegetables and fruits high in water content. The best summer foods to have are Vegetable/Fruits Salads, Beans & sprouts salad, Soups, Yoghurt with mangoes (this combo gives vitamin A & D), Tomato, Carrot, Cucumber, Beetroot, Watermelons, Kharbojaa, Oranges, Greens, Berries like Strawberries & Blackberries, Ice Apple (Thati Munjalu in Telugu, Thati nunju in Tamil), Litchi, Kiwi, Apples, Pears, Nuts, Avocados. These foods are also the energy boosters.
#02. Drink like a fish
Maintaining hydration levels in summer is crucial so gulp down more water. If you're on a busy schedule and often forget to drink water, set a reminder. Many of us rely on soft drinks when we're thirsty. But it's an unhealthy way to replenish.
These drinks keep the hydration levels higher,
Coconut water   
Lemon, mint leaves, cucumber detox drink  
Barley water
Chia seeds  water
Aloe vera juice
Sugarcane juice
Lassi 
Buttermilk  
Salt & Sugar drink  
Homemade Fruit/Vegetable juices
Add Glucose or Electrolyte to the drink which boasts more energy. Either you're at home or heading out carry a bottle of the above drinks along with water.
#03. Spray the mist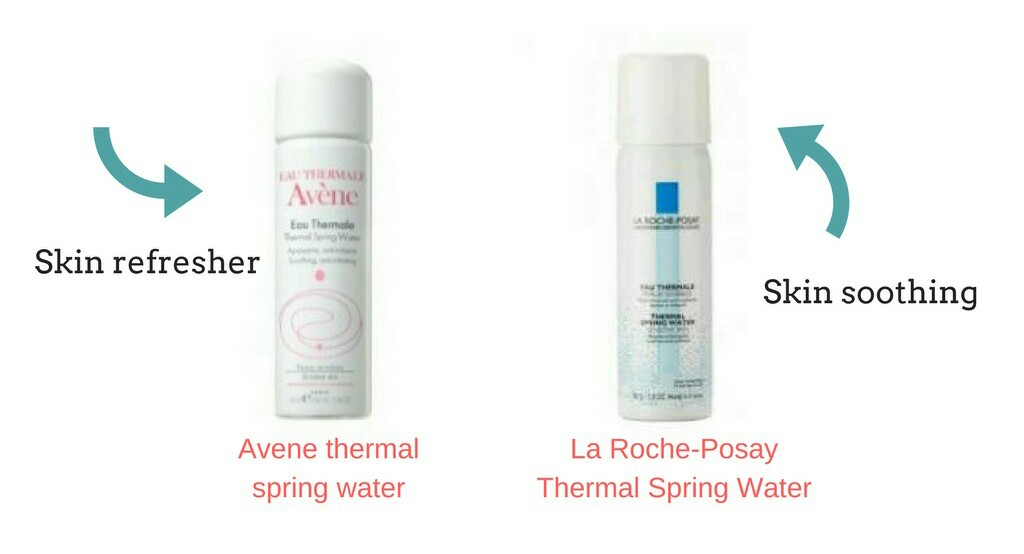 Shop these @ Nykaa.com  (at low price)
When the foods and juices give you internal hydration, the Thermal mist gives external hydration to the skin. Carry around the mist and spray for every two hours or when the skin gets oily. It brings back the moist so as keeps the face fresh and well hydrated. It just feels great when you spray the mist in hot and stifling weather. I mostly use the Avene Thermal spring water. It's not so steep and works wonders.
However, you can also use water as a mist. Take some random spray bottle, fill it up with water and refrigerate overnight. It's one hell of a good spray in hot weather.
#04. Skincare routine
Besides, health problems excess exposure to the sun also damage the skin in many ways. It causes Inflammation, Sunburns, Acne, age spots, Itching, peeling of skin and Dryness. Dryness? Yes, in summer we tend to observe more dryness because of frequent baths, long time in conditioning rooms, excess sweat, and due to sweat when we rub the skin often then consequently moist levels goes off. Sometimes even if your not direct to the sun, skin gets damaged. So, we need to take utmost care of skin.
This 6 step routine helps you in getting the glowing skin. I recommend following these steps during nights because all day long, the skin gets exposed to sun rays and dust particles. Also, at times we rush to workplaces so run out of time.
Cleansing –

The first step to skin care regime is to get rid of all the obstacles like dirt and makeup. Dip a cotton pad in makeup remover or a natural cleanser and wipe off the obstacles. Bioderma makeup remover works well to take off deep layers of makeup. The other natural ingredient is Milk. Dip the cotton pad in milk and dab all over the face. It's the best solution to take off dirt, impurities.

Toning –

Basically, toning restores the pH levels which protects & strengthens the skin.  Most importantly it hydrates the skin by alleviating dry skin. Also, toning cleans away the leftover makeup residues or dirt particles. Estee Lauder night repair serum is the best serum/toner I've ever known. The best natural toner is Rosewater. Squeeze out 2-3 drops on the cotton pad and just like cleansing, dab onto the face.

Exfoliation –

An exfoliator removes dead skin cells and blackheads. Exfoliation is massaging face with massage creams/scrubs. Don't use harsh scrubs which irritates the skin. Before scrubbing or massaging the face steam up. Steaming will open the pores so it automatically removes the dead cells when you massage. Sugar is the best exfoliator. For effective results blend sugar with honey & olive oil. You can also go with the scrubs and massage products available in markets.

Face masks –

These act as skin coolants and brings out the glow. Make your favourite facemask or grab the best facemasks in the markets.

Eye cream –

Eyes do need proper amounts of moisture. Go with Clinique Pep start eye cream. It's a one-step remedy for 3 problems. It soothes puffy eyes, removes eye wrinkles & dark circles. Thereby, provides moisture to eyes.

Moisturizer –

The final step of skin regime. Apply a good moisturizer which keeps the skin hydrated for long hours. Cetaphil moisturizing cream is one best moisturizer in the markets.
#05. Sunscreen
Sunscreen is the most crucial step to follow in the morning routine. Though you don't follow a morning skincare routine do not step out without applying sunscreen whatsoever busy schedule you have. Certainly, this is what a doctor/blogger/vlogger preach you to do.
Primarily, choose the best sunscreen that suits you. There is no sunscreen which is so good and one which is bad. Sunscreen with SPF 10 works the same as SPF 50. What we need to consider is choosing sunscreen which bests suits our skin and the amount we apply to the skin.
Apply the sunscreen in thick layers religiously. And make sure to apply every 2hrs after spraying the thermal mist.
[Read: How to apply sunscreen]
#06. Hair care routine
The three hair problems diagnosed in summer are Dandruff, dryness, excess oils consumption.
Alike skin the hair turns dry when overly exposed to the sun. This dryness is the root cause of dandruff. Likewise, due to the sweat and exposure to sun rays, more oils accumulate in the scalp. These problems lead to itchy scalp, irritation, and redness.
Remedies:
Double shampoo your hair
Shampoo the hair thrice a week
Apply oil only for an hour and wash it off
Condition the hair two times., i.e before and after shampooing
Apply olive oil to hair, immerse a cloth/towel in hot water and drape it around the hair for an hour.
Steam the hair
After shampooing apply climate control leave in conditioner. I use Bblunt anti-frizz leave in cream. It works well for my hair.
#07. Would rather wear accessories
Summer is the perfect time for switching to pastel colours and giving solid colours a rest. From lightweight fabrics to summery free-flowing maxis is the summer vibe. In addition to clothing, the accessories are must which consequently protect us from hot rays. The 6 essential accessories are:-
Scarves
Umbrellas
Espadrilles rather than flipflops. Because half the leg get exposed in flipflops which tan the skin.
Cool sunglasses
Summer Hats
Lightweight footwear
#08. Say no to Alcohol & Coffee
Consumption of more alcohol or caffeine beverages actually worsens dehydration. Symptoms like vomitings, less urination are showcased.
Stay Healthy!! Stay Happy!!
Thumbnail image courtesy of Flickr